The first work for Ohba after "Bakuman." ended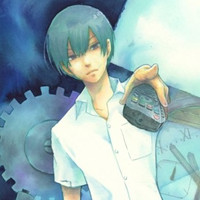 In commemoration of its 35th anniversary, Shueisha's weekly manga magazine Young Jump will publish two one-shot collaboration manga between Young Jump or Shonen Jump artists and shoujo manga artists in its upcoming 23rd and 24th issues. The special project is titled "'JUMP' meets 'Girl' SPECIAL COMIC."
Tsugumi Ohba, who is best known as the story creator for the international bestseller series Death Note and Bakuman., collaborates with Robico (Tonari no Kaibutsu-kun/My Little Monster) for Skip! Yamada-kun on the 23rd issue, which is scheduled to be published in Japan on May 8. This is Ohba's first collaboration work with a manga artist other than Takeshi Obata for the two series, and first work for Robico after Tonari no Kaibutsu-kun finished its serialization in January 2014. The manga focuses on a junior high school student Yamada, who hates bothersome things and wishes to live an easy life.
The next 24th issue will have Ato Ippon no Otoko (The man of one more), illustrated by Renjuro Kindaichi
(Liar x Liar) and written by Masanori Morita (Rokudenashi Blues). It features a trouble hits Natsuyaki, a
professional baseball player who has dedicated his whole life to the sport without thoughts for his family.
"Skip! Yamada-kun" illustration (c) Tsugumi Ohba, Robico/Shueisha
"Ato Ippon no Otoko" (c) Masanori Morita, Renjuro Kindaichi/Shueisha
Source: Comic Natalie