Game remains free, both game OSTs being offered as paid DLC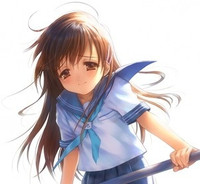 If you remember all the way back to last November, I started to cover the beginnings of an official translation and release for a little-known free visual novel in Narcissu 1st+2nd, first covering the beginning of the Steam Greenlight campaign in November and then subsequently covering the successful completion of the campaign the next month in December.
After months of work (and presumably tons of coffee and late nights) Sekai-Project has officially released the game under Steam's Early Access program. While this means that the game is still unfinished, the game is being considered complete enough to be released to more people outside of beta testers previously selected by the group for additional feedback. The group has also posted the following message regarding the state of the game on the Early Access page for the game:
Why Early access?
We're still not satisfied with the improvements with the engine to feel that it is ready for primetime. Therefore we put the game out to Early Access so more people can play and report any bugs. Also we are still doing script work which will occasionally break save files.


What's missing?
Steamworks integration isn't complete so achievements are not recorded.
Waiting on achievement icons
New translation still needs to be inserted
As an additional incentive to download the game, the soundtracks for both games are being offered as paid DLC through Steam for $7.99, I'd like to congratulate Sekai Project on this latest release, and I can't wait to play it.
---
Humberto Saabedra is the Owner of AnimeNews.biz, Editor-in-Chief of PhoneNews.com and a part-time recording engineer. He can also be found musing on things (and Nico Robin) at @AnimeNewsdotbiz