The album took the first place in the Oricon weekly album ranking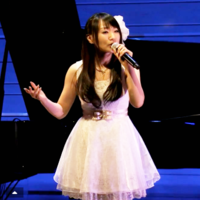 To promote her 10th album "SUPERNAL LIBERTY," popular voice actress/singer Nana Mizuki held nine handshake events in three cities (Tokyo, Osaka, Nagoya) between April 25 and 27. Her official YouTube channel has posted two singing videos at Yamaha Hall in Tokoyo on 25. The 15-song album was released in Japan on April 16 and took the first place in the Oricon weekly album ranking selling 76,144 units in its first week. This is her second Oricon No.1 album four years and 10 months after the 7th "ULTIMATE DIAMOND" released in June 2009.
"Ai no Hoshi" was originally released as a coupling song of her 29th single "Vitalization" released on July 31, 2013, and featured as the ED theme for the 7th chapter of Space Battleship Yamato 2199 Theatrical Edition. The rearranged version of the song titled "Ai no Hoshi -two hearts-" is included in the album. "Thermidor" was performed for the 1998 mini album "NOeL ~La neige~ depart chisato×nana,"
in which she sung as Chisato Kadokura, a character from the PS1 game NOëL ~La neige~. She made her
professional voice actress debut for the character in 1998.
"Ai no Hoshi"
"Thermidor"
"SUPERNAL LIBERTY" 30-second CM
*all of the videos are legitimately posted by the Nana Mizuki official YouTube channel
Blu-ray limited edition
DVD limited edition
Regular edition
Source: Nana Mizuki official site
© KING RECORDS.CO.,LTD.