Character design/illustrations by Aka Ringo (Nanana's Buried Treasure)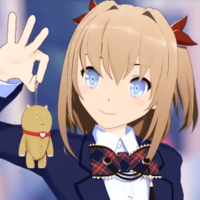 HAL, College of Technology & Design, a Japanese institution focusing mainly on the development of high technology games and 3DCG, has posted this year's new TV CM and PV featuring a MMD character named Yuuki-tan. The 16-year-old girl is designed by Aka Ringo, who is best known for his illustration works for Kazuma Outorino's light novel series Nanana's Buried Treasure.
The courage-themed (yuuki means "courage" in Japanese) videos are directed by Masataka-P, who has been producing many MMD videos including the famous Hatsune Miku-featured "Chaining Intention" in 2010. In addition, kz(livetune), one of the most famous vocaloid song creators, provides a new song "High and Loud" for the videos. Check the 15-second CM and full PV below.
HAL Tokyo 2014 TV CM ver.1 (HAL×YOU)
HAL 2014 TVCM PV Edit ver. (HAL×YOU)
Dance choreography video
"Chaining Intention" by Masataka-P (2010)
Source: HAL, College of Technology & Design
© HAL