The 2-episode disc hits stores on June 18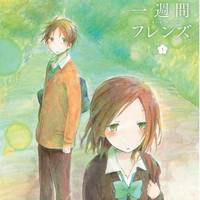 Toho Animation's official YouTube channel today posted three CMs for the first Blu-ray/DVD of the on-going TV anime Isshukan Friends./One Week Friends. The first limited edition of the disc, which is scheduled to be released in Japan on June 18, comes with an entry ticket for a special event featuring the voice cast and theme song singers, titled "Tomodachi ni Nattekudasai" (Please be my friend) held in Tokyo on September 28.
The disc set, containing the first two episodes, also includes a mini soundtrack CD composed by Irone Toda, booklet, sleeve case illustrated by the anime character designer Eri Yamazaki, "Kanade" music video sung by Sora Amamiya as Kaori Fujimiya, special movie version of Kaori's Diary of May 22, and non-credit OP&ED. The 46-minute disc is now priced at 5,434 yen (about US$53) for Blu-ray and 4,635 yen (about US$45) for DVD.
One Week Friends is now available to Crunchyroll's audience in the USA and Canada.
"One Week Friends" Blu-ray/DVD vol.1 CM: Kaori Fujimiya edition
Yuuki Hase's event announcement edition
Kaori's Diary edition
"Kanade" music video short ver. by Kaori Fujimiya (CV: Sora Amamiya)
(C)ONE WEEK FRIENDS Project
(C)MATCHA HAZUKI/SQUARE ENIX