The rock legend RT'ed images from the anime making the school idols go global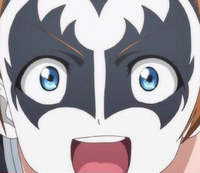 Gene Simmons, who doesn't really need a formal introduction, is the mouthpiece and frontman of one of the most well-known rock bands in the world in KISS and he accidentally came across images from Japanese school idol anime LoveLive! this past weekend because something about it looked really familiar to him.
Below, see how the fans, the anime director of the episode and the anime character designer all reacted to his reaction.
[SPOILER ALERT] This post contains images from episode 6 which became available around 11am Pacific Standard Time today.
via @genesimmons
It started with this tweet by Gene himself that contained an image from the LoveLive! anime and followers in the know quickly replied back to the rock legend with following images which Gene graciously RT'ed. Some replies back to him by his other followers are funny as well.
via @ninjagnome
via @pizapizapiza8
By Gene RT'ing above images, there was a moment that LiveLive! school idols in KISS makeup was at the top page of the official site of world-famous celebrity.
via @kyo_takahiko
Takahiko Kyogoku, the director of LoveLive! episode 6 posted on his twitter saying: "I can't be too loud about it since it's a spoiler, but if you go to Gene Simmons official site right now, it makes me think we became more global. It feels surreal". When anime character designer Asako Nishida jokingly replied back to Kyogoku reporting to the legend that it's him who turned KISS into a parody, Kyogoku replied back that he was only inspired by the legendary rock band.
After the LoveLive! posts, rock legend posted above image as if to say, it's not a big deal. Long live KISS and if you are curious to find out what happend in the episode 6 of LoveLive!, be sure to check it out today!
Source: Togetter
© 2014 GeneSimmons.com, LLC
© 2013 Project Love Live!
© KLabGames
© bushiroad