OLDCODEX and STYLE FIVE will perform the theme songs again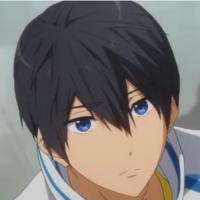 Kyoto Animation's official YouTube channel today posted a one-minute promotional video for Free! -Eternal Summer-, the highly anticipated second season of the swimming club-themed TV anime. The PV was previously screened on Akihabara UDX Vision and other places for three days between May 3 and 5. The 12-episode first season was aired in Japan from July to September 2013. The second season animated by the same staff is scheduled to premiere in July on ABC, Tokyo MX, TV Aichi, and BS11.
1st PV
Teaser CM
The official site for the anime also reveals today that voice actor Tatsuhisa Suzuki's band OLDCODEX and
the anime's voice actors unit STYLE FIVE will once again perform the OP and ED song respectively. OLDCODEX
will perform the new OP song "Dried Up Youthful Fame" and its CD single will be released as their 9th single
on July 30. STYLE FIVE will sing the new ED "FUTURE FISH" and it will be released on August 6. The five
members of the unit are: Nobunaga Shimazaki (as Haruka Nanase), Tatsuhisa Suzuki (Makoto Tachibana),
Mamoru Miyano (Rin Matsuoka), Tsubasa Yonaga (Nagisa Hazuki), and Daisuke Hirakawa (Rei Ryugazaki).
Source: "Free!" anime official site
© Koji Ouji/Kyoto Animation/Iwatobi High School Swimming Club