Her high school graduation photo book will be released in June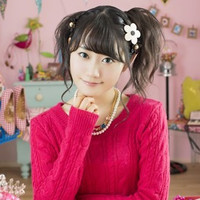 The official site for 18-year-old popular anime voice actress Yui Ogura announced today on May 12 that she will sing "Tinkling Smile," the ED theme for the upcoming second season of Yama no Susume/Encouragement of Climb TV anime which is scheduled to air in July. She will also reprise her role as Kokona Aoba in the new season. In the 12-episode first season which was aired from January to March 2013, Yuka Iguchi and Kana Asumi, the two voice actresses for Aoi Yukimura and Hinata Kuraue, sang the theme song "Staccato Days." "Tinkling Smile" will be released as Ogura's 4th solo single on August 13.
3rd single "Charming Do!" short PV
One more news. Japanese publisher Gakken will release Yui Ogura's high school graduation memorial photo
book titled "yui memory" on June 5. The official Twitter account of Seiyu Animedia has posted the cover
photo and key promotional photo for the book. Check them below.
"yui memory" cover
Key promotional photo
© Gakken Publishing Co.,Ltd
via: Natalie