The Blu-ray/DVD will be released in Japan on July 4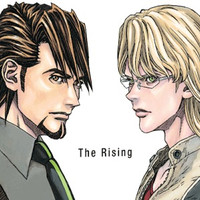 The official site for the Tiger & Bunny anime films announced today that its second film Tiger & Bunny: The Rising will be streamed only once for free on Bandai Channel's live stream site Minna de Stream at 22:00 on May 24 (JST), six weeks before the official release of the Blu-ray/DVD in Japan, July 4. The URL for the stream will be announced later.
Tiger & Bunny: The Rising opened in Japan on February 8, 2014, following the first film Tiger & Bunny: The Beginning on September 22, 2012. It tells what happens to the characters after the TV anime story and introduces Golden Ryan/Ryan Goldsmith, a new hero who works as Barnaby's partner in replacement of Wild Tiger. The original soundtrack album for the film will be released on June 25, then the Blu-ray/DVD will follow on July 4.
The package illustration
The box for the limited edition
via: Akiba Souken
©SUNRISE/T&B MOVIE PARTNERS