Animated by Hoods Entertainment (The Qwaser of Stigmata, Mysterious Girlfriend X)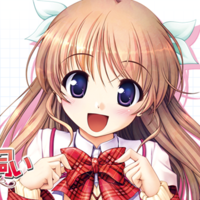 The official website for the upcoming TV anime adaptation of August's adult PC game Daitoshokan no Hitsujikai: A Good Librarian Like a Good Shepherd announced today on May 14 that it will start this October. The official Twitter account for the TV anime also launches today. The game was released in Japan in January 2013 for Windows PCs and has become one of the recent most successful adult games (I have seen so many street ads for the game in Akihabara).
The story revolves around the main protagonist Kyotaro Kakei, who is the sole member of the Library Club at Shiomi Academy. One day he receives an email from the "shepherd" (hitsujikai) who is said to be able to fulfill any wishes. It says, "You will experience a life changing event today." After an encounter with a second-year girl Tsugumi Shirasaki on the day, more and more girls join the club to be with him.
The main staff:
Original story: August
Series composition: Kiyoko Yoshimura (Last Exile: Fam, the Silver Wing, Riddle Story of Devil)
Original character design: Bekkankou (Tsuki wa Higashi ni Hi wa Nishi ni: Operation Sanctuary, Yoake Mae yori Ruriiro na)
Director/Character designer/Animation Director: Team Niko (Kenichi Konishi, Tomomi Kamiya, Asami Sodeyama, Kaori Hayashi, Yu Nobuta)
Music: Active Planets
Anime production: Hoods Entertainment (The Qwaser of Stigmata, Mysterious Girlfriend X, Kanojo ga Flag wo Oraretara)
Game's opening movie (no NSFW images)
Source: "Daitoshokan no Hitsujikai" TV anime official site
© August/Shirasaki Tsugumi to Mayoeru Hitsujitachi