Directed by Kanta Kamei (Oreshura, Nanana's Buried Treasure)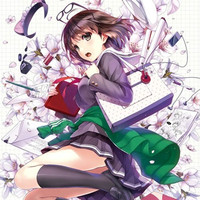 The official site for the upcoming TV anime adaptation of Fumiaki Maruto's popular comedy light novel series Saenai Heroine no Sodatekata (How to raise an unattractive heroine) has announced its main staff and two additional cast: Yoshitsugu Matsuoka as the protagonist Tomoya Aki and Sayuri Yahagi as his cousin Michiru Hyodou.
Maruto has been well-known as the scenario writer for the popular adult PC game Sekai de Ichiban NG na Koi (2007/HERMIT) and WHITE ALBUM 2 (2010/Leaf), and made his novel writer debut with this series illustrated by Kurehito Misaki. The first volume was published from Fujimi Shobou's Fujimi Fantasia Bunko in July 2012 and now six volumes are available in Japan. The TV anime based on Maruto's own scenario is scheduled to premiere on Fuji TV's noitamina block in January 2015.
The story centers on a deep otaku high school boy Tomoya Aki. One day in the spring break, he sees
a girl on a slope during his part time job to get the money to buy anime Blu-rays, then decides to create
a doujin dating simulation game featuring her. One month later, he learns she is one of his classmates,
Megumi Kato. Can he and his circle friends complete the game by the day of Comiket?
The main staff:
Original story: Fumiaki Maruto (Fujimi Fantasia Bunko)
Director: Kanta Kamei (Oreshura, Nanana's Buried Treasure)
Scenario: Fumiaki Maruto
Music: Hajime Hyakkoku- F.M.F (GJ Club, K-ON!)
Anime production: A-1 Pictures (Sword Art Online, Ore no Imouto ga Konna ni Kawaii Wake ga Nai)
The main voice cast:
Yoshitsugu Matsuoka as Tomoya Aki
Saori Ohnishi as Eriri Spencer Sawamura
Ai Kayano as Utaha Kasumigaoka
Sayuri Yahagi as Michiru Hyodou
1st PV
TV CM for the 6th volume
The novel volume 1&2
Volume 3&4
Volume 5&6
Source: Saenai Heroine no Sodatekata anime official site
© 2015 Fumiaki Maruto, Kurehito Misaki, KADOKAWA Fujimi Shobou/Saenai Production Committee