Starts Saturday, July 5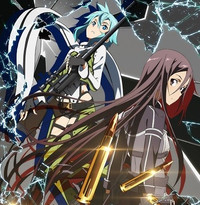 Stand by for a scintillating summer season of anime as Sword Art Online II, the highly anticipated follow-up to one of anime's biggest recent hits, is set to join the Crunchyroll lineup. Based on the light novels by Reji Kawahara and illustrated by abec, Sword Art Online II beings streaming on Crunchyroll on July 5th. Please make a note of it! In the meantime, to get yourself up to speed, you can watch previous episodes of Sword Art Online here on Crunchyroll!
About Sword Art Online II
1 year after the SAO incident, Kirito is approached by Seijiro Kikuoka from Japan's Ministry of Internal Affairs and Communications Department "VR Division" with a rather peculiar request.
That was an investigation on the "Death Gun" incident that occurred in the gun and steel filled VRMMO called Gun Gale Online (GGO). "Players who are shot by a mysterious avatar with a jet black gun lose their lives even in the real world…" Failing to turn down Kikuoka's bizarre request, Kirito logs in to GGO even though he is not completely convinced that the virtual world could physically affect the real world.
Kirito wanders in an unfamiliar world in order to gain any clues about the "Death Gun." Then, a female sniper named Sinon who owns a gigantic "Hecate II" rifle extends Kirito a helping hand. With Sinon's help, Kirito decides to enter the "Bullet of Bullets," a large tournament to choose the most powerful gunner within the realm of GGO, in hopes to become the target of the "Death Gun" and make direct contact with the mysterious avatar.
Sword Art Online II will be available to Crunchyroll users in the following territories: U.S., Canada, Australia, New Zealand, U.K., Ireland, Latin American Countries, Europe (excluding German & French speaking countries), Asia (excluding China, Korea, Taiwan).
---------
Patrick Macias is editor in chief of Crunchyroll News. He is also the editor of Otaku USA magazine. Check out his rather amazing Tumblr at japanesefashioninferno.tumblr.com.