Directed by Takashi Sano (Pretty Rhythm: Rainbow Live, Outbreak Company)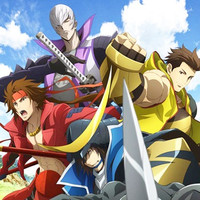 Nihon TV's official site for the upcoming TV anime Sengoku Basara Judge End, the latest TV anime adaptation of Capcom's popular video game series Sengoku Basara, announced yesterday on May 22 that it is scheduled to premiere in Japan in July. According to Mantan Web's report, the voice recordings for the first two episodes are already finished.
The story of Judge End is set in the Battle of Sekigahara, which was also told in the 2010 PS3/Wii game Sengoku Basara 3 (Sengoku Basara: Samurai Heroes). In the real history of Japan, it occured in 1600 as one of the most famous and fateful battles between the eastern and western armies to decide who would rule the whole country.
The TV anime adaptation is animated by Telecom Animation Film (Muteki Kanban Musume, Z/X
IGNITION) for the first time for the franchise. The previous three were produced by Production I.G. Takashi
Sano, who has been working as an episode director/storyboard artist for various TV anime for more than
10 years, including SKET DANCE, Ore no Imouto ga Konna ni Kawaii Wake ga Nai, Pretty Rhythm: Rainbow
Live, Outbreak Company, finally makes his directorial debut. The voice actors for the game including Kazuya
Nakai (Masamune Date), Souichiro Hoshi (Yukimura Sanada), Toru Okawa (Ieyasu Tokugawa), and
Tomokazu Seki (Mitsunari Ishida), reprise their roles.
The main staff:
Original story: CAPCOM (Sengoku Basara 3)
Original concept supervisors: Hiroyuki Kobayashi (CAPCOM), Makoto Yamamoto (CAPCOM)
Director: Takashi Sano
Series composition: Natsuko Takahashi (Yuyushiki, BROTHERS CONFLICT, Lady Jewelpet)
Character designer: Michinori Chiba (Mobile Suit Gundam 00, Mobile Suit Gundam AGE)
Chief animation directors: Yumenosuke Tokuda, Toshimitsu Kobayashi
Art director: Daisuke Jinba
Color coordinator: Masumi Ohtsuka
Sound director: Miwa Iwanami
Animation Production: Telecom Animation Film
Key visual
Source: "Sengoku Basara Judge End" official site via Mantan Web
(c)CAPCOM/BASARA JE