Oda says, "I will come back with a stronger body."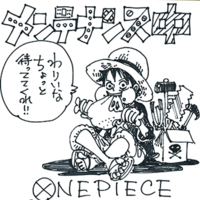 Shueisha's Shonen Jump official site announces today on May 28 that Eiichiro Oda's One Piece manga will not appear in the upcoming 28th issue (June 9 release) and 29th (June 16), because the author needs to have a surgery to remove his tonsils. According to the announcement, Oda developed a peritonsillar abscess last year. Since then, he has been working within his permissible limits, but now decides to have a surgery to completely heal. One Piece is scheduled to back in the magazine's 30th issue to be published on June 23.
The message from Oda:
"Since last year, I have had swollen tonsils when I get tired. It has really interfered with my work, so I
decide to remove the tonsils by this surgery. Since taking a surgery is such a rare opportunity, I will ask
the doctors to set bazookas on my shoulders. I will come back with a stronger body to finish various works
scheduled in the last half of this year. I'll be back soon, please play with me again then."
"In Maintenance"
Luffy says, "Sorry, wait for a little bit."
Source: Shonen Jump official site
© Eiichiro Oda/Shueisha