The design will be revised in the Blu-ray/DVD version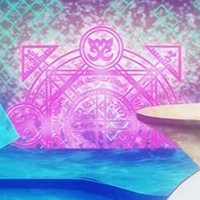 On May 22, an amateur Japanese illustrator named Ikkakujyu (means unicorn) found a magic circle designed by him for his CG illustration lecture site was used in the seventh episode of the on-going TV anime No Game No Life without his permission. He reported it to the producers of the anime via Twitter, and the production committee of the anime acknowledged the unauthorized copying of his design by the next day. They said that the staff just intend to use it as a reference, but somehow ended up copying it. The TV anime's official site posted a written apology to announce that the magic circle design will be revised in the Blu-ray/DVD version five days later on May 28.
Ikkakujyu is showing his understanding of the situation saying, "Everybody makes mistakes. The people
who admit their own mistakes and reflect on themselves can grow up more. So please support them,
everyone." He is now looking forward to seeing the revised magic circle design.
The image from the 7th episode of "No Game No Life"
The magic circles designed by Ikkakujyu
via: Netlabo