The 12th volume has sold 1,770,746 copies in Japan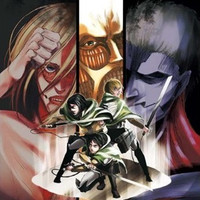 Oricon announced the top selling books for the first half of 2014 (from November 18, 2013, to May 18, 2014) on their website today on June 2. The top-selling manga series during the period was Hajime Isayama's mega hit Attack on Titan. Surprisingly (or not so?), the series sold 8,342,268 copies and finally defeated Eiichiro Oda's long-running One Piece (4,936,855 copies), which had kept the top spot since 2009, for the first time. Attack on Titan's highest position in the first half periods was a 4th in 2011 and 2013.
The author Isayama gives his joyful comments as follows: "If I only have one life to live, I have always wanted to take the Oricon No.1 spot. Everyone who gave me the Oricon No.1! Thank you very much for giving me the Oricon No.1!" The latest 14th volume of the series is scheduled to be released on August 8, 2014.
Top 10 manga series:
1. "Attack on Titan" Hajime Isayama (8,342,268)
2. "One Piece" Eiichiro Oda (4,936,855)
3. "Kuroko's Basketball" Tadatoshi Fujimaki (4,616,040).
4. "NARUTO" Masashi Kishimoto (3,247,177)
5. "Magi: The Labyrinth of Magic" Shinobu Ohtaka (3,085,177)
6. "Hozuki no Reitetsu" Natsumi Eguchi (3,060,694)
7. "Ace of Diamond" Yuji Terajima (2,914,977)
8. "Silver Spoon" Hiromu Arakawa (2,875,863)
9. "Ansatsu Kyoshitsu" Yusei Matsui (2,795,169)
10. "Nisekoi" Naosho Komi (2,418,041)
Top 10 manga volume:
1. "One Piece 73" (2,825,339)
2. "Attack on Titan 12" (1,770,746)
3. "Attack on Titan 13" (1,6665,561)
4. "NARUTO 67" (1,073,219)
5. "NARUTO 68" (1,039,390)
6. "Kimi ni Todoke 21" Karuho Shiina (934,335)
7. "Silver Spoon 11" (904,863)
8. "Silver Spoon 10" (836,790)
9. "NARUTO 69" (799,324)
10. "Sakamoto desu ga? 2" Nami Sano (775,315)
The image illustration for the "Attack on Titan "14th volume
Source: Oricon Style
"Attack on Titan" image (C) Hajime Isayama/Kodansha