Advance screening events are scheduled in December 2014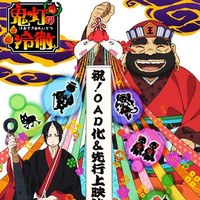 It was officially announced at the "Jigoku no Daienkai" event held in Tokyo yesterday on June 1 that the limited edition of the upcoming three tankobon volumes (17th, 18th, 19th) of Natsumi Eguchi's dark comedy manga Hozuki no Reitetsu will be bundled with newly-produced anime episodes (OAD: Original Animation Disc). The 13-episode TV anime adaptation by WIT STUDIO was aired in Japan from January 9 to April 3 this year. The same staff with the TV series including the director Hiro Kaburagi and character designer Hirotaka Kato will again work on the OAD series.
The 17th volume is scheduled to be released on February 23, 2015, then followed by the 18th on May 22 and the 19th on August 21. The price for the limited edition with the OAD is 3,300 yen (excluding tax/about US$32.35). Advance screening events for the three OAD episodes are also planned to be held at 11 theaters across Japan in December 2014.
The announcement illustration for the OAD series and advance screening events
via: Comic Natalie
(c) Natsumi Eguchi/Kodansha/Hozuki no Reitetsu Production Committee