"Cast" your favorite shows from your mobile device or desktop to your TV!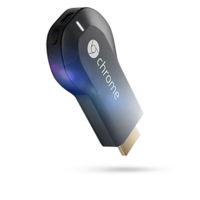 Here at Crunchyroll, we care about making sure that you, our loyal fans, can access the Crunchyroll service anywhere, anytime! Today, we are happy to announce that with a Chromecast device you can now "cast" your favorite Anime shows from your mobile phone, tablet or desktop – directly to your TV. Our team has been working closely with the team at Google to ensure that the Crunchyroll experience on takes full advantage of all that the Chromecast product has to offer.
Josh Gentry, who leads App Development at Crunchyroll states:
"We have thoroughly enjoyed working alongside the Chromecast Team to bring Crunchyroll to such a unique platform that enables our users to extend their experience on their mobile devices and computers to the living room."
Once your Chromecast is connected, simply open your mobile app or chrome browser and locate the new "cast icon" in the top right corner – you can access the full content line-up available on the iOS or Android app, as well as all your favorite Anime and Dramas from the Crunchyroll website. Chromecast, a small device which plugs directly into the HDMI input on your television, allows you to watch content on your TV while using your mobile app or Chrome browser, as the controller. If you would like to watch simulcast episodes of the most recent Anime shows directly from Japan on your TV, in HD, without Ads – you can sign up for Premium access!
Who here is going to be watching Crunchyroll via Chromecast? Sound off in the comments and let us know!