The CG reboot film hits Japanese theaters June 21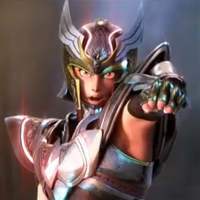 Toei Animation's official YouTube channel has posted two highlight scene videos from the upcoming full CG film Saint Seiya: Legend of Sanctuary. The first one introduces the trademark finishing moves of the five Bronze Saints: Seiya's Pegasus Ryu Sei Ken, Shiryu's Rozan Sho Ryu Ha, Hyouga's Diamond Dust, Shun's Nebula Chain, and Ikki's Houyoku Tenshou. The second video features the heroine of the story, Saori Kido/Athena, voiced by Momoiro Clover Z's Ayaka Sasaki.
The story of the film is based on the "Sanctuary Arc" in Masami Kurumada's original manga, which mainly focuses on the battle between the Bronze Saint protagonists and the Gold Saints, the most powerful Knights in Athena's army, through the 12 temples to save Athena who was shot with a golden arrow. It is directed by Keiichi Sato (Tiger & Bunny, Asura) and written by Tomohiro Suzuki (Tiger & Bunny), with the original manga creator Kurumada as the executive producer. The CG reboot film
featuring the theme song by Yoshiki (X-Japan), "Hero (Yoshiki Classical Version)," hits Japanese theaters
on June 21.
1st video
2nd video "The end of normal life"
The thme song "Hero (Yoshiki Classical Version)" clip
The latest flyer
© Masami Kurumada/"Saint Seiya" Production Committee