A Japanese dentist that offers a lot more than dental work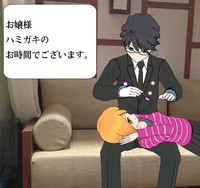 We've seen many normal services offered with "moe" twists from Japan before, such as maid cafes, butler cafes and the popularity of being served by representatives in costume helped the idea to spread into many different fields, which now includes dentistry. A Japanese dental clinic in Dental Beauty Salon PureCure now offers dental cleaning by a dentist dressed as a butler, while patients lay on his lap and I was able to interview the butler dentist himself.
Dr. Taro Masuoka D.D.S., is the guy in the suit above at the unique dental clinic located in Roppongi, Japan. His clinic was first made known as the clinic that creates the "Yaeba (a double tooth look)" which is often considered cute in Japanese culture. Their newest service, "Butler's dental cleaning while you rest your head on his lap" is 9,800 yen.
Q. Dr. Masuoka, I saw a lot of photos of you in butler attire at your clinic's homepage, but are you always in the butler costume at work?
A. I am in butler attire at consultation with patients, then put a lab coat over it when it's time for treatment.
Q. May I ask whose idea it was to offer dental cleaning in a butler costume with Hizamakura (a patient resting their head on your lap)? It's quite intersting.
A. It was my idea. I have many friends in the maid cafe and butler cafe industry and seeing them made me want to come up with a service that unites "moe" and preventative dentistry.
Q. Who is the target audience for this service? Is this service offered to non-Japanese speakers, too?
A. My main purpose is to entertain female otaku patients and people who dream about one day becoming "Ojousama" with a butler who serves her. We are also happy to welcome non-Japanese speaking patients! Although my consultation will be in Japanese, if we are notified early enough, we'll do our best to serve so we can offer a great experience.
Q. Can male patients receive this service, too?
A. Of course they can! We are happy to serve "Goshujinsama", too.
Q. Have you already had customers for this service?
A. We have reservations, but the treatment dates are still in the future. I am practicing with my staff at the moment. I have to admit that it's little embarassing at the begining, but as the patient gets used to laying on my lap, it's more relaxing than receiving cleaning on the dental chair, which usually feels mechanical.
Q. There are lots of services offered with a "moe" twist in Japan, but why did you decide to do this?
A. The medical care and assistance field is a serious one, but I wanted to offer something that lifts the spirit of both the patients and the workers while making it fun.
Q. Do you have any special messages to CRN readers (as a butler)?
A. If you ever have a chance to visit Japan, we would be happy to see you! I will be looking forward to welcome you home to our clinic, Ojosama.
New Azabu Bldg. 5F, 4-1-18 Roppongi, Minato-ku, Tokyo
email: [email protected]