The OP song ranked number 11 on the Oricon ranking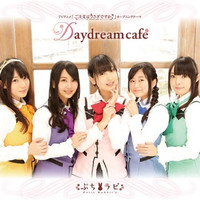 "Daydream Café," the OP song for the on-going TV anime Is the Order a Rabbit?, performed by the voice actress unit Petit Rabbit's, was released in Japan on May 28, and takes a very good 11th place in the Oricon weekly ranking selling 14,912 units (while the director of the anime Hiroyuki Hashimoto says it has sold over 30,000). The five members of the unit: Ayane Sakura (Cocoa), Inori Minase (Chino), Risa Taneda (Rize), Satomi Sato (Chiya), and Maaya Uchida (Syaro) have posted a five-minute appreciation video message to the fans for their support.
Is the Order a Rabbit? is now available to Crunchyroll's audience in the following territories: USA, Canada, UK, Ireland, Australia, New Zealand, South Africa, Netherlands, Scandinavia, Turkey, Latin America, France and DOM/TOM, Belgium, Switzerland, Andorra, Netherlands, Luxembourg, Algeria,
Tunisia, Morocco, Italy, Spain, Portugal, Germany, Austria, Liechtenstein, Poland, Hungary, Czech Republic,
Romania, the Middle East and the Arab League.
Appreciation video message from Petit Rabbit's
"Daydream Café" short version PV
TV CM
"Daydream Café" regular edition CD jacket
Limited edition
Source: "Is the Order a Rabbit?" anime official site
© KOI, HOUBUNSHA/Gochiusa Partners