Maika Takai, Yuuki Wakai, Ayano Yamamoto join the cast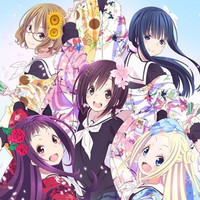 The official site for the upcoming TV anime adaptation of Sou Hamayumiba's Yosakoi Dance-themed manga Hanayamata today announced its premiere schedule with a new key visual featuring the five main girls, a character introduction video for Hana, the release day for the OP and ED songs, and additional voice cast for the three members of Yaya's band Need Cool Quality.
The premiere schedule:
July 7: TV Tokyo 25:35~
July 8: TV Osaka 25:35~
July 10: TV Aichi 25:35~ (only 1st episode will be aired on 26:05)
July 11: AT-X 22:00~
The CD singles of the OP song "Hana wa Odoreya Irohaniho" by Team Hanayamata and the ED song
"Hanayuki" by SmileY inc. will be simultaneously released in Japan on August 27. Team Hanayamata
is a new unit formed by the five main voice actresses of the anime: Reina Ueda, Minami Tanaka, Kaya
Okuno, Yuka Otsubo, and Manami Numakura. SmileY inc. is also a newly-formed two-member unit by
Yuka Ohtsubo and famous Vocaloid song producer Yuuyu who is best known for his Hatsune Miku song
in 2010, "Shinkai Shoujo."
The main voice cast:
Reina Ueda as Naru Sekiya
Minami Tanaka as Hana N. Fontainestand
Kaya Okuno as Yaya Sasame
Yuka Otsubo as Tami Nishimikado
Manami Numakura as Machi Tokiwa
Megumi Toyoguchi as Sally-sensei (Naru and others' homeroom teacher)
Tsuyoshi Koyama as Masaru Ohfuna (the owner of the Yosakoi shop)
Three of the four members of the band Need Cool Quality which is founded by Yaya
Maika Takai as Yuka Komachi
Yuuki Wakai as Sachiko Yamanoshita
Ayano Yamamoto as Arisa Kajihara
The new key visual
Team Hanayamata
SmileY inc.
Character introduction video for Hana
Character introduction video for Naru
Source: TV anime "Hanayamata" official site
© Sou Hamayumiba, Houbunsha/"Hanayamata" Production Committee