The second TV series will be aired on 10 stations across Japan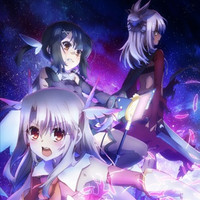 With a new promotional video and key visual featuring the three main girls: Illyasviel von Einzbern, Miyu Edelfelt, and Kuroe von Einzbern, the official site for the upcoming TV anime adaptation of Hiroshi Hiroyama's Fate/Kaleid liner Prisma Illya 2wei! has announced its premiere schedule in July.
The premiere schedule:
July 9: TOKYO MX (25:35~), Sun TV (26:00~), TVQ Kyushu Housou (26:40)
July 10: Chiba TV (25:00~), TV Saitama (25:05~), Gifu Housou (25:45~), Mie TV Housou (26:20~),
AT-X (22:00~)
July 11: tvk (25:15~), BS11 (27:00~)
Latest PV
New key visual
Fate/Kaleid liner Prisma Illya is Hiroyama's spin-off manga series based on Type-Moon's popular visual
novel Fate/stay night. 2wei! was serialized in Kadokawa Shoten's Comp-Ace from 2009 to 2012 as the
second installment of the Prisma Illya series following the first Prisma Illya in 2007-2009. The third
installment Fate/Kaleid Liner Prisma Illya 3rei!! has been running in the magazine since the July 2012 issue.
The first 10-episode TV anime series was aired in Japan from July to September in 2013.
Shin Onuma, who was the director of the anime first season, serves as the general director for Silver Link
with Masato Jinbo who is promoted to the director from an episode director. Kenji Inoue and Nozomi
Ushijima again work on series composition and character designs respectively.
Source: "Fate/Kaleid liner Prisma Illya 2wei!" official site
© 2014 Hiroshi Hiroyama, TYPE-MOON/KADOKAWA/"Prisma Illya 2wei!" Production Committee