In other Discotek news, a Q&A with David Hayter is being prepared for their "Castle of Cagliostro" release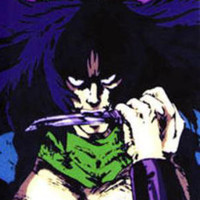 At the end of May, Discotek Media teased "We have another so bad it's good title coming next year! What could it be?" Today, they revealed the title in question is the infamous anime adaptation of Go Nagai's Violence Jack.
Plans were laid out:
Violence Jack complete OVA series coming to DVD in early 2015! It will include the Japanese language with English subtitles, and the English dub. This will be the longer version.
The masters will be the same as the Japanese version, the video is uncut, with some mosaic used. These are the only masters that exist.
In other Discotek news, a Q&A with David Hayter is being prepared for their Castle of Cagliostro release.

David Hayter, the English voice for Lupin the Third in the 2000 version of The Castle of Cagliostro has graciously agreed to participate in… something for Discotek's upcoming Blu-ray! For right now, it's a mystery! But we want YOU to submit your questions for him! Mr. Hayter recently wrote and directed the feature film Wolves, but he is also famous for voicing Snake in the Metal Gear game series, and for penning the script for the popular X-Men feature film. He also co-wrote X2: X-Men United and Watchmen.
We have just a couple of ground rules:
1. This is not a Metal Gear / X-Men / Watchmen / Guyver 2: Dark Hero / Wolves interview. If you do ask a question relating to his other projects, please try to make sure it's tied to Cagliostro somehow.
2. Please try to think outside the box a little with your questions. What we mean by that is, try to ask things someone else might not have thought to ask already.
Submit your questions through our ask.fm page:
http://ask.fm/CastleofCagliostro
------
Scott Green is editor and reporter for anime and manga at geek entertainment site Ain't It Cool News. Follow him on Twitter at @aicnanime.