Char's handshaking events will be held in Akihabara on June 22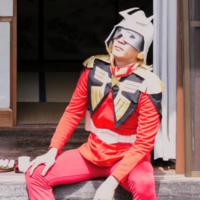 Char no Nichijo (Char's daily life) is a parody manga by Masaya Honda (story) and Nanboku (art), which has been serialized in Kadokawa Shoten's Gundam Ace. It features an amnesia man named Nishi, who is exactly look like Char Aznable, one of the main protagonists/antagonists in the Mobile Suit Gundam series, and his daily life in the modern day Japan. The first tankobon volume was published in August 2013 and has had 200,000 print run.
Kadokawa today posted a live-action promotional video for the upcoming second volume of the manga, which is scheduled to be released on June 26. In order to promote the parody series, Kadokawa will also hold handshaking events with the "real" Char at five stores in Akihabara on June 22.
"Char no Nichijo" PV
"Real 'Char' is coming to Akihabara!? Shake hands with me!"
1st volume cover
2nd volume cover
Source: press release
© Sotsu/Sunrise