Tom Cruise starring film opens in Japan on July 4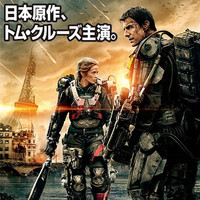 In a late interview with MSN Sankei, Hiroshi Sakurazaka, the original novel author of military sci-fi light novel All You Need Is Kill, shows his approval of the live-action film adaptation which was recently released internationally under the title of Edge of Tomorrow starring Tom Cruise and Emily Blunt.
The 44-year-old novelist says, "The film was very well done. Because I had rather imagined the world of the original novel with anime styled-images, when I saw the future army was moving in the live-action footage, I thought it was amazing." He actually visited the set of the film in London the year before last, having an opportunity to wear the 35-kg combat suit and to act as the director's instructions. "The director (The Bourne Identity's Doug Liman) kept saying 'One more,' so I did it for about 10 takes. I thought I could die (laugh). Mr. Cruise is such a superhuman because he was running around with this."
The novel was initially released from Shueisha's light novel imprint Super Dash Bunko, then have been
published in 20 countries including the US by VIZ Media under their Haikasoru imprint. "Since I had an
opportunity of this film adaptation, I want to write a story which can be read by the people in overseas. I
have felt a certain reaction." He has already started working on the idea for the sequel.
All You Need Is Kill hits Japanese theaters on July 4 with the novel's original title.
The Japanese trailer with Tom Cruise's message
The Japanese poster
Source: MSN Sankei