With a video for a new character song by Maki and Nico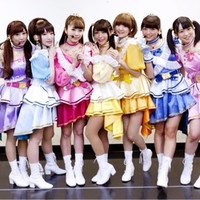 The special limited edition of the second Blu-ray disc of the on-going TV anime Love Live! second season is scheduled to be released in Japan on July 25. The edition comes with the first part (seven songs) of the "μ's →NEXT Love Live! 2014 ~ENDLESS PARADE~" concert held at Saitama Super Arena on February 8, 2014, with a newly-recorded character song CD "Zuruiyo Magnetic today" sung by Maki Nishikino (CV: Pile) and Nico Yazawa (Sora Tokui). Lantis has posted a five-minute digest video of the concert and a trial listening video for the song on its official YouTube channel. The reference price for the second disc which contains the second and third episode is 7,560 yen (about US$74).
"μ's →NEXT Love Live! 2014 ~ENDLESS PARADE~ Part 1" digest
"Zuruiyo Magnetic today" trial listening video
The jacket illustrations by the character designer/animation director Asako Nishida
The members of μ's (via Aina Kusuda's official blog)
© 2013 Project Love Live!