Available for a limited time between July 1 and September 30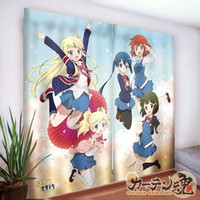 Since March 2010, Key-th, the Kanagawa-based company has been known for its "Curtain Damashii" brand featuring popular anime series such as K-ON!, Oreimo, Infinite Stratos, A Certain Scientific Railgun S, Free!, Sword Art Online, Ro-Kyu-Bu!, and Madoka Magica. Its latest entry for this summer is Kin-iro Mosaic, the TV anime adaptation of Yui Hara's four-panel manga. The four items printed with the cute high school girls will be available for a limited time of three months between July 1 and September 30. Check the details below. Which item do you want for your room?
"Kin-iro Mosaic Curtain"
Price: 15,400-24,000 yen (about US$151-235)
"Sanji no Oyatsu Time Curtain" (3 o'clock snack curtain)
Size: 130cm × 185cm
Price: 12,800 yen (US$125) for normal cloth
14,100 yen (US$138) for light shielding cloth
"Asa no Goaisatsu Noren" (Morning Greetings Noren)
Size: 85cm × 150cm
Price: 3,900 yen (US$38)
"Shinobu & Alice Carpet"
Size: 148cm x 84cm
Price: 8,700 yen (US$85)
Source: Curtain Damashii official site via Otakuma Keizai Shimbun
© Yui Hara, Houbunsha/Kin-iro Mosaic
© Key-th