"I uploaded them to make some extra spending money."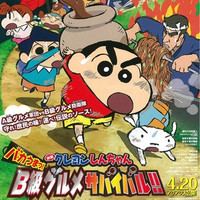 ACCS (The Association of Copyright for Computer Software) reported today on June 24 that Okinawa Prefectural Police's Living and Safety Division and its Naha Station arrested a 48-year-old male contracted worker from Sapporo-city, Hokkaido, on suspicion of copyright infringement (infringement of public transmission rights), then referred the case to the Naha District Public Prosecutors Office on June 19. Prior to this, the man was already arrested for another illegal uploading of anime and films on May 28.
The suspect is accused of posting the 2013 anime film Crayon Shin-chan: Very Tasty! B-class Gourmet Survival!! onto video-sharing website FC2 without the copyright holder Shin-Ei Animation's permission on January 3, 2014, then also posting the 2011 OVA Black Jack Final Karte 11 owned by Tezuka Productions onto the site on January 29. He has already admitted his charge and said, "I uploaded
them to make some extra spending money."
No matter whether it is for profit or non-profit purposes, posting copyrighted materials onto the video sharing
sites without the right holders' permission is illegal in Japan.
Source: ACCS
Crayon Shin-chan image © Yoshito Usui/Futabasha, Shin-Ei, TV Asahi, ADK 2014
---
Related:
39-year-old Man Arrested for Uploading "Attack on Titan," "One Piece" TV Anime Episodes
Chinese Man Arrested for Selling Pirated Boa Hancock Figures
Another Share User Arrested for Uploading "K-ON!!" TV Anime
45-year-old Man Arrested for Uploading 4 TV Anime including "Non Non Biyori," "Nagi no Asukara"
38-year-old Unemployed Man Arrested for Uploading "Dokidoki! PreCure"
33 People Arrested for Illegal Uploading of Anime, Films in 3 Days
36-Year-Old Unemployed Man Arrested for Uploading "Gintama" Manga
47-Year-Old Unemployed Man Arrested for Uploading "Berserk" Manga
Unemployed Man Arrested for Posting Hayao Miyazaki's "The Wind Rises" on FC2 Site
Man Arrested for Uploading "Tamako Market" Anime Episode