Starring Shota Sometani, Eri Fukatsu, Ai Hashimoto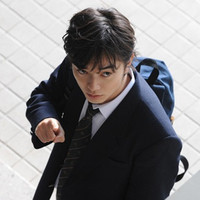 Japanese movie news site Eiga. com has posted the first two shots from the upcoming two live-action film adaptations of Hitoshi Iwaaki's Parasyte/Kiseiju sci-fi manga, directed by Takashi Yamazaki (Returner, Always, Space Battleship Yamato). The photos feature Shota Sometani as the protagonist of the story, Shinichi Izumi. The shooting of the two-part film lasted for five months was recently finished. The first part is scheduled to be released in Japan on November 29, 2014, then the second part will follow sometime in 2015.
50-year-old Yamazaki also serves as the VFX director for the film like he did for his 2010 film Space Battleship Yamato. The three announced cast are: Shota Sometani as the protagonist Shinichi Izumi, Eri Fukatsu as high school teacher parasyte Ryoko Tamiya, and Ai Hashimoto as Shinichi's girlfriend Satomi Murano. According to Sometani's interview, the parasyte Migi in his right arm is created with CGI.
Source: eiga.com
© Movie "Parasyte" Production Committee