The original Amuro voice actor, Toru Furuya serves as the narrator.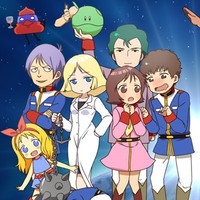 The official site for the upcoming TV anime adaptation of Hideki Ohwada's parody four-panel manga based on the popular Mobile Suit Gundam franchise, Mobile Suit Gundam-san, is launched today on June 25 with the announcements for its premiere schedule and main voice cast. The manga has been serialized in Kadokawa Shoten's Gundam Ace since its first issue published in June 2001 and now 11 tankobon volumes are available in Japan. The TV anime, simply titled Gundam-san, will premiere on BS 11 on July 6, then on Tokyo MX on the following day.
34-year-old Mankyu (Puchimas! Petit Idolmaster) directs the anime for Sunrise, the original production company of the Gundam anime series. Sao Tamado, who previously worked with Mankyu for Puchimas!, again designs the parody anime characters.
The voice cast:
Char-san: Katsuyuki Konishi
Lalah-san: Megumi Han (a daughter of Lalah Sune's original voice actress Keiko Han)
Amuro-san: Tsubasa Yonaga
Sayla-san: Kaori Nazuka
Bright-san: Ryutaro Okiayu
Kai-san: Yoshimitsu Shimoyama
Haroo: Takshi Matsuyama
Kycilia-tan: Ryo Hirohashi
Frau-tan: Rikako Yamaguchi
Garma-san: Kazuyuki Okitsu
Proverb commentary: Keiko Han
Narrator: Toru Furuya (the original voice actor for Amuro Ray)
Key visual
The covers of the 1st and 11th manga tankobon
Source: "Gundam-san" anime official site
© Sotsu/Sunrise