The next season is slated for October 2014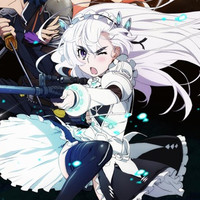 The final/12th episode of the first season of Chaika -The Coffin Princess- TV anime was aired in Japan today on June 26. Japanese news site Moca has already posted a key visual for the second season which is slated for this October. Just like Ore no Imouto ga Konnani Kawaii Wake ga Nai, the anime's second season and the original light novel series by Ichiro Sakaki are scheduled to end simultaneously.
Second season key visual
In addition, the official Twitter account of the series has also posted the appreciation illustrations by
the anime director Souichi Masui and character designer Nobuhiro Arai for the fans.
The director Masui says, "Thank you for watching the final episode," "See you again in the second season,"
"Please wait, it's coming soon."
The character designer Arai says, "Continuing to the second season, Thank you for watching."
The first volume of the Blu-ray/DVD will be released tomorrow on June 27.
Source: moca, "Chaika -The Coffin Princess-" official Twitter
(C)2014 Ichiro Sakaki, Namaniku ATK (Nitroplus)/KADOKAWA Fujimi Shobou/"Chaika -The Coffin Princess-" Production Committee