Pumps and booties inspired by one hell of a butler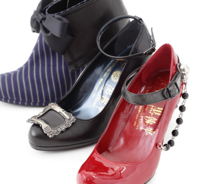 Japanese geek fashion portal 2PMWorks has opened pre-orders for 3 new shoes that are inspired by the Kurotshitsuji series main characters in Sebastian, Ciel and Grell Sutcliff. The shoes are designed by the Chachoke brand who previously brought out the Puella Magi Madoka Magica inspired shoes with 2PMWorks. Pre-orders close on July 13th and are planned to be shipped in late October.
Sebastian Michaelis inspired model
17,800 JPY + 1,424 JPY Tax
Sebastian's choice of weapon is a part of the main decoration.
The heels used are the brand's cat heels in respect of Sebastian's love for cats.
All the metal parts used also have an antique finish.
Red stones inspired by the butlers eyes are hidden in the back of the shoes.
Ciel Phantomhive inspired bootie
19,800 JPY + 1,584 JPY Tax
The bootie is designed with Ciel's butterfly tie and his jacket as inspiration.
The collar part can be removed for a different look.
17,800 JPY + 1,424 JPY Tax
The Skull design is used on the heels and the metal parts to attach the chain inspired by Grell's glasses.
The chain is also removable.
©Yana Toboso/SQUARE ENIX
Copyright © 2013-2014 2PMWORKS All rights reserved.