Seiji Kishi (Angel Beats!, Danganronpa) directs the 2015 TV anime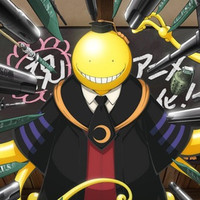 It is officially announced today on June 30 that a TV anime adaptation and live-action film adaptation of Yusei Matsui's Ansatsu Kyoushitsu/Assassination Classroom are in the works. The news is revealed on the 31st issue of Shueisha's Shonen Jump published today in Japan. The official site and Twitter account for the anime are also launched at the same time with the first key visual featuring the alien teacher Korosensei.
The manga has been serialized in the magazine since 2012 and the latest 10th tankobon volume is scheduled to be released on July 4. So far the mange series has had over 10 million print run in Japan. Seiji Kishi (Angel Beats!, Danganronpa, Persona 4) directs the TV anime with scripts by Makoto Uezu (School Days, The Qwaser of Stigmata) for Lerche (Unbreakable Machine-Doll, Re:_Hamatora). Kazuaki Morita (Kamisama Dolls, Arpeggio of Blue Steel -Ars Nova-) designs the anime version characters.
The TV anime will premiere on Fuji TV sometime in 2015. The live-action film also plans a 2015 release,
but no details including the cast has been yet announced.
1st key visual
Shonen Jump 31st issue
via: Comic Natalie
(C) Yusei Matsui/Shueisha, Anime "Ansatsu Kyoushitsu" production Committee