Starts July 2, at 9:00am Pacific Time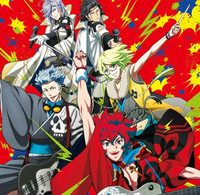 Hear ye, hear ye! Another new anime announcement from Crunchyroll arrives in the form of Samurai Jam -Bakumatsu Rock- based on the music-themed video game. Read on for full details!
Samurai Jam -Bakumatsu Rock- is set to broadcast every Wednesday starting on July 2, at 9:00:00 am Pacific Time for its premium members, with free members able to watch one week later. More information can be found on www.crunchyroll.com/bakumatsu-rock.
Background
Marvelous' Samurai Jam -Bakumatsu Rock- game gets an anime adaptation! The story is set n the Bakumatsu Era, at the end of the Tokugawa shogunate's rule over Japan. The government has been using "Heaven's Song" played by the top idols in the Shinsengumi to brainwash its citizens. Writing or singing any other song is considered a crime. Ryoma Sakamoto and the other rockers, want to start a revolution against the shogunate using their rock'n'roll for freedom and justice.
The anime features an all star cast of voice actors. Kisho Taniyama (known for his roles as Natsuki Shinomiya from the Uta no Prince Sama series) voices Ryoma Sakamoto. Tatsuhisa Suzuki (Makoto Tachibana from Free! – Iwatobi Swim Club) voices Shinsaku Takasugi. Shotaro Morikubo (Soji Okita from the Hakuoki series) plays Kogoro Katsura. Toshiyuki Morikawa (Sephiroth from Final Fantasy VII: Advent Children) plays Toshizo Hijikata. Itsuro Kawasaki (Sengoku Basara: Samurai Kings, Arc the Lad) is directing the anime at Studio DEEN.
Samurai Jam -Bakumatsu Rock- will be available to Crunchyroll's audience in the following territories: USA, Canada, Australia, New Zealand, Latin America.
---------
Patrick Macias is editor in chief of Crunchyroll News. He is also the editor of Otaku USA magazine. Check out his rather amazing Tumblr at japanesefashioninferno.tumblr.com.