Starts July 5 at 10:30am Pacific Time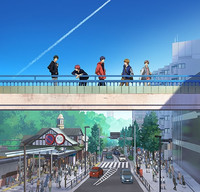 Crunchyroll continues a new slew of summer season announcements today, and the first title of the day to issue forth is SHONEN HOLLYWOOD -HOLLY STAGE FOR 49-, an idol anime from studio ZEXCS.
SHONEN HOLLYWOOD –HOLLY STAGE FOR 49- is set to broadcast every Saturday starting on July 5, at 10:30am Pacific Time for its premium members, with free members able to watch one week later. More information can be found on www.crunchyroll.com/hollywood.
Based on the mixed media project by Ikuyo Hashiguchi, studio ZEXCS will be producing the idol anime SHONEN HOLLYWOOD –HOLLY STAGE FOR 49-. The plot takes place 15 years after the original light novel's story in a fictional theater called Hollywood Tokyo in Harajuku. The five aspiring members, Kakeru, Kira, Ikuma, Daiki and Shun, work together to develop their talents as idols.
The project brings together an all-star cast of voice actors known for their leading roles in some of today's most popular anime. Daiki Yamashita (Onoda from Yowapeda) as Kira Saeki, Kensho Ono (Kuroko from Kuroko's Basketball) as Shun Maiyama, Ryota Oosaka (Eijun from Ace of the Diamond) as Kakeru Kazami, Shota Aoi (Ai Mikaze from Uta no Prince Sama 2) as Daiki Tomii, and Tetsuya Kakihara (Yohei from Kuroko's Basketball) as Ikuma Amaki. The opening theme, "Hello World" will be performed by the titular group, Shonen Hollywood.
SHONEN HOLLYWOOD –HOLLY STAGE FOR 49- will be available to Crunchyroll's audience in the following territories: Europe except English speaking territories, the Middle East, and North Africa.
---------
Patrick Macias is editor in chief of Crunchyroll News. He is also the editor of Otaku USA magazine. Check out his rather amazing Tumblr at japanesefashioninferno.tumblr.com.