New full-scale mobile suit statue project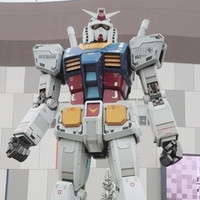 We all know Sunrise will produce Yoshiyuki Tomino's Gundam Reconguista in G with the anime adaptation of Yoshikazu Yasuhiko's Gundam The Origin for the 35th anniversary of the Mobile Suit Gundam franchise in the coming years. Moreover, the company has already started planning the next anniversary project five years from now.
Gundam's 35th anniversary project today launches a teaser site for "REAL G Next Project," the upcoming project to built new full-scale mobile suit statues for the franchise's 40th anniversary in 2019, following the famous RX-78-2 Gundam model in front of Diver City Tokyo Plaza in Odaiba, Tokyo. Seemingly, the teaser site will soon reveal the names of the mobile suits. Which mobile suit do you want to see in full-scale?
The screenshot of the teaser site
18-meter statue of RX-78-2 Gundam at DiverCity Tokyo Plaza (photo © Mikikazu Komatsu)
Source: Gundam 35th anniversary site
© Sotsu/Sunrise