BD/DVD Boxset set for November 11th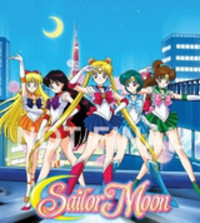 Viz Media held its long-awaited Sailor Moon panel during Anime Expo earlier today and delivered on the surprises, as the company confirmed the new English dub cast for the original series, which features familiar names along with some newcomers. Below, the complete cast list:
Main Voice Cast
Stephanie Sheh as Usagi Tsukino/Sailor Moon
Kate Higgins as Ami Mizuno/Sailor Mercury
Cristina Vee as Rei Hino/Sailor Mars
Amanda C. Miller as Makoto Kino/Sailor Jupiter
Cherami Leigh as Minako Aino/Sailor Venus
Robbie Daymond as Mamoru Chiba/Tuxedo Mask
Supporting Voice Cast
Johnny Yong Bosch As Artemis
Michelle Ruff as Luna
Danielle Nicole as Naru Osaka
Ben Diskin as Gurio Umino
Tara Platt as Ikuko Tsukino
Keith Silverstein as Kenji Tsukino
Nicolas Roye as Shingo Tsukino
Cindy Robinson as Queen Beryl
Todd Haberkorn as Jadite
Liam O' Brien as Nephrite
Lucien Dodge as Zoicite
Patrick Seitz as Kunzite
As for the release of the BD/DVD boxset, the first set will be released on November 11th, with the Limited Edition to feature six discs, a chipboard box with space for the Part 2 BD/DVD set, collectible 88-page booklet filled with art, character profiles and episode guides. On-disc extras include an interactive art gallery, behind the scenes dub recording, announcement panel and fan reaction footage, sizzle trailer, clean opening and endings, and additional trailers. Online retailer RightStuf will include a collectible coin with each limited edition pre-order while supplies last.
With all of the above, who's going to pick this set up later this year?
---
Humberto Saabedra is the Owner of AnimeNews.biz, Editor-in-Chief of PhoneNews.com and a part-time recording engineer. He can also be found musing on things (and Nico Robin) at @AnimeNewsdotbiz