Starts July 7th at 11:00am Pacific Time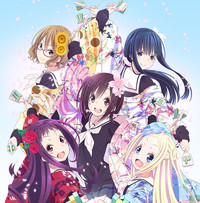 The Fourth of July weekend may be winding down, but the new anime announcements for Crunchyroll's summer season just keep on comin'! Exhibit A: HaNaYaMaTa, based on the manga by Sou Hamayumiba, is set to begin streaming shortly.
HaNaYaMaTa is set to broadcast every Monday starting on July 7th, at 11:00am Pacific Time for its premium members, with free members able to watch one week later. More information can be found on www.crunchyroll.com/hanayamata.
Based on the original manga by Sou Hamayumiba, HaNaYaMaTa is the story of a group of junior high school girls finding themselves and their dreams through their Yosakoi dance club.
Naru is a junior high school girl who is average in every way. She loves fairy tale heroines, though she's never had the courage to escape her ordinary life. One day, she sees Hana, a transfer student, dancing in the moonlit and becomes inspired to learn Yosakoi dancing.
From the animation studio company that brought us titles such as No Game, No Life, and Cardcaptor Sakura, Mad House Studios will be in charge of the HaNaYaMaTa project. Voice actress Reina Ueda plays the main character Naru Sekiya. Manami Numakura, who will be voicing Aoi Sakurai in the upcoming anime Rail Wars!, is playing Machi. They are joined by Kaya Okuno, Minami Tanaka and Yuka Otsubo from Wake Up Girls! playing Yaya, Hana, and Tami respectively.
HaNaYaMaTa will be available to Crunchyroll's Premium members worldwide ex Asia, with free members being able to watch in the following territories: USA, Canada, UK, Ireland, Australia, New Zealand, South Africa, Denmark, Finland, Iceland, the Netherlands, Norway, and Sweden.
---------
Patrick Macias is editor in chief of Crunchyroll News. He is also the editor of Otaku USA magazine. Check out his rather amazing Tumblr at japanesefashioninferno.tumblr.com.