The girl can navigate you with 3,000 phrases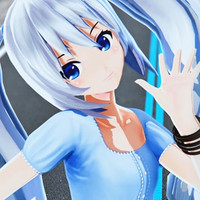 As reported back in February, Lei Kirishima, voiced by popular voice actress Miyuki Sawashiro (Fujiko Mine in Lupin the Third, Kurapika in Hunter x Hunter), is a 17-year-old virtual character developed for Japanese radio and telecommunications equipment company Yupiteru's portable car GPS navigation "Lei Navi." The navigation system is recently updated to a new version "Lei Navi+" featuring newly-modeled Lei with more voices and costumes.
The new 3D Lei is refined by famous vocaloid video creator Wakamura-P, who is well known for his collaboration works with Hachioji-P ("Weekender Girl," "Electric Love") and livetune ("Tell Your World"). With Toshitaka Shinoda (amana), he co-directs a music video for her CM song "Wish upon a Star" below.
"Wish upon a Star" PV
"Lei Navi+" demonstration video
15-second CM for "Lei Navi"
Lei Kirishima image © 2011- 2014 Yupiteru CORPORATION