Characters designed by Shinji Itadaki (Ghost in the Shell, Psycho-Pass)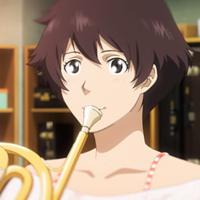 To promote its newly-launched Faculty of Liberal Arts for the spring of 2015, Iwaki Meisei University in Fukushima Prefecture today starts posting a web novel series "Kiniro no Katatsumuri" (Golden-colored Snail) with anime TV CMs produced by internationally acclaimed studio Production I.G (Ghost in the Shell, Kuroko's Basketball) via its special contents site.
The web novel is written by Kazunari Yonezu who is known for his bicycle-themed books "Oikaze Rider" (Tailwind Rider) and "Jitensha de Touku ni Yukitai" (I want to go far away by bicycle), both published in 2012. The story of the web novel centers on Sae Odagiri, a sophomore in Faculty of Liberal Arts. After spending some purposeless days, she decides to take on the practice of the horn seriously in the brass band club. Then she also starts thinking about her future. Shinji Itadaki, who has been working for Production I.G's Ghost in the Shell series, Psycho-Pass, Haikyu!!, designs the
anime characters. You can also check the making process of the CMs here (in Japanese).
CM "Digest"
CM "Running Four Seasons"
Source: press release