First episode available today at 10am PST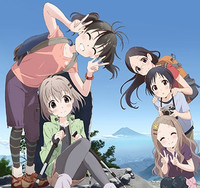 Strap yourself in for another day of new anime announcements at Crunchyroll! The first title in today's bumper crop is Season Two of Encouragement of Climb, based on the manga by Shiro.
Encouragement of Climb Season Two begins TODAY at 10:00am Pacific Time for premium members, with free members able to watch one week later. Future episodes will be broadcast at the regular time of Wednesdays at 8:30am Pacific Time. More information can be found on http://www.crunchyroll.com/encouragement-of-climb-season-2.
Official Synopsis
Do you want to see sunrise again from the top of mountain?

Aoi and Hinata are childhood friends. Aoi prefers staying indoors and is afraid of heights, whereas Hinata is outgoing and loves mountaineering. They both decide to climb a mountain in order to see a sunrise they saw together when they were younger.
Encouragement of Climb Season Two will be available to Crunchyroll's audience in the following territories: U.S.A, Canada, United Kingdom, Ireland, South Africa, Australia, New Zealand, Finland, Norway, Sweden, Demark, Iceland, Netherlands, Turkey, Latin America (Central and South America including Caribbean), Spain, Portugal, France and DOM/TOM, Belgium,Andorra, Switzerland, Luxembourg, Germany,Austria, Liechtenstein, Czech Republic, Hungary, Poland, Italy, Romania, the Middle East and North Africa
---------
Patrick Macias is editor in chief of Crunchyroll News. He is also the editor of Otaku USA magazine. Check out his rather amazing Tumblr at japanesefashioninferno.tumblr.com.