The first two episodes are now available on Crunchyroll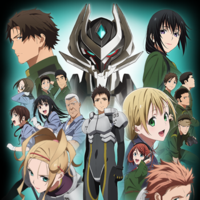 Warner Japan's YouTube official anime channel has posted two short version promotional videos for the OP and ED songs for the 2014 summer TV anime ARGEVOLLEN (Shirogane no Ishi Argevollen/Silver Will Argevollen): "Tough Intention" by KOTOKO and "Faith" by Sachika Misawa. The OP song will be released in Japan on July 23 as the veteran anime/game theme singer's memorial 20th single. Then the ED song hits stores on August 6, as the 3rd single of the 21-year-old anime voice actress.
ARGEVOLLEN is the second original TV anime produced by Warner Entertainment Japan following selector infected WIXOSS, and is now available to Crunchyroll's audience in the following territories: USA, Canada, Australia, New Zealand, South Africa, Turkey, Latin America, Europe (except Albania, Belarus, Bosnia and Herzegovina, Vatican City, Moldova, Macedonia, Monaco, Montenegro, San Marino, Russia, Serbia, Ukraine), the Middle East, and North Africa.
The OP song "Tough Intention" short PV by KOTOKO
Limited edition jacket
Regular edition jacket
The ED song "Faith" short PV by Sachika Misawa
Limited and regular edition jackets
Anime key visual
15-second CM
© Warner Bros. Entertainment Inc
© AIOS/PROJECT ARGEVOLLEN