Starts July 11 at 11:15am Pacific Time in select regions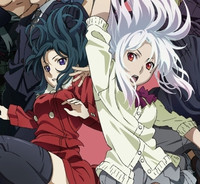 Prepare for the awakening of burgeoning psychic powers galore as Tokyo ESP joins the ranks of Crunchyroll's streaming anime titles for summer 2014.
Tokyo ESP is set to broadcast every Friday starting on July 11, at 11:15am Pacific Time for its premium members, with free members able to watch one week later. More information can be found on www.crunchyroll.com/tokyo-esp.
Rinka is a financially struggling high school girl living with her single father in Tokyo. One day, while going home from school, she sees a penguin flying in the sky towards the Tokyo Sky Tree. She chases after it only to find fish swimming in the air! One of the fish goes through Rinka and causes her to pass out. She wakes up to find that she has developed the ability to slip through solid objects.
Rinka will be played by voice actress Ibuki Kido, known for her role as Kana Yabuki from THE [email protected]. Takeshi Yasuda, executive producer of Lucky Star and The Melancholy of Haruhi Suzumiya, will be leading the Tokyo ESP project. The singer Faylan will perform the opening theme song "Tokyo Zero Hearts," while the group Yousei Teikoku will perform the ending theme song, "Kyusei Άργυρóϛ".
Tokyo ESP will be available to Crunchyroll's audience in the following territories: Bahrain, Cyprus, Iran, Islamic Republic of, Iraq, Jordan, Kuwait, Lebanon, Oman, Palestine, Qatar, Saudi Arabia, Syrian, Arab Republic, United Arab Emirates, Yemen, Albania, Andorra, Belarus, Bosnia and Herzegovina, Macedonia, Malta, Republic of Moldova, Bulgaria, Croatia, Czech Republic, France, Germany, Greece, Holy See (Vatican City State), Hungary, Lithuania, Latvia, Monaco, Montenegro, Poland, Portugal, San Marino, Slovakia, Serbia, Romania, Spain, Turkey, Ukraine, Algeria, Comoros, Djibouti, Egypt, Libyan Arab Jamahiriya, Mauritania, Morocco, Somalia, Sudan, Tunisia, Western Sahara.