2014 opens in Japan this month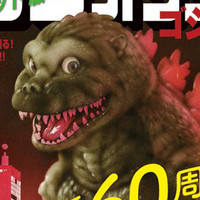 Celebrating 40 years of Big Comic Original as well as 60 years of Godzilla, and leading into the July 25th Japanese release of the new Hollywood Godzilla, the works of 21 industry greats such as Rumiko Takahashi (InuYasha) and Naoki Urasawa (Monster, 20th Century Boys) have been collected in a special manga tribute to the King of Kaiju.
The style of the cover is based on the seinen magazine's convention of using a cute dog or cat, and a haiku.
Contributors include
Shinpei Itou (Moldiver)
Naoki Urasawa
Yasuo Ohtagaki (Moonlight Mile)
Tobira Oda
Masahiko Kikuni (Heartbroken Angels)
Nawoki Karasawa (Super Cruel and Terrible Tales of Mangaka )
Kenichi Kitami (Blackjack Alive)
Akira Sasou
Keigo Shinzo
Yasuhiko Takata
Rumiko Takahashi
Yamamoto Terry
Kazuichi Hanawa (Ax: Alternative Manga)
Mochiru Hoshisato (Living Game)
Yasushi Hoshino
Nobuyuki Hori + Yukio Miyama
Ippatsu
Kouichi Masahara
Daijirou Morohoshi
Sensha Yoshida
From the Japanese premiere of the movie
The length of the red carpet at today's #GODZILLA Japan Premiere equals Godzilla's height in the 2014 film: 355 ft. pic.twitter.com/15AVJqXyo6

— Legendary (@Legendary) July 10, 2014
[映画]ハリウッド版ゴジラが台風つれて日本にやってきた!渡辺謙も感無量! http://t.co/9eVCyzmFMd pic.twitter.com/Hk0g4QuX13

— シネマトゥデイ (@cinematoday) July 10, 2014
[写真]映画『GODZILLA ゴジラ』ジャパンプレミア写真ギャラリー http://t.co/8xSZbf9nnZ pic.twitter.com/eoc0oRjecy

— シネマトゥデイ (@cinematoday) July 10, 2014
-------
Scott Green is editor and reporter for anime and manga at geek entertainment site Ain't It Cool News. Follow him on Twitter at @aicnanime.