The voice of Maki Nishikino and Rin Hoshizora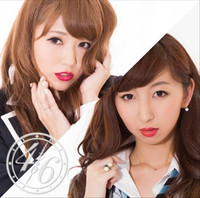 Tokuma Japan has posted a short version promotional video for "Watashi no Tokei wa Gyakukaiten!" (My watch is spinning the opposite direction!), the debut single of two-member unit "4to6" formed by the two voice actresses from the popular Love Live! anime series, Pile (Maki Nishikino) and Riho Iida (Rin Hoshizora). The unit name means the time between the end of the school day and return to the house, from 4:00 pm to 6:00 pm.
While the unit itself has no connection with the Love Live! franchise, the 1st single is written by Aki Hata, who has written all of the songs for the franchise, and is supervised by the staff of Love Live! songs. The CD single is scheduled to be released in Japan on August 20 in two editions.
"Watashi no Tokei wa Gyakukaiten!" short PV
15-second CM
Limited edition jacket
Regular edition jacket
Artist photo
Video message from the members
via: Natalie
(C)Tokuma Japan Communications CO.