Starts July 14 at 9:30 am Pacific Time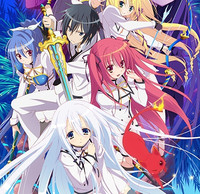 If you were wondering if more new anime announcements were in the cards for Crunchyroll today, then consider this your official joyus confirmation: Bladedance of Elementalers, based on the light novel by Yu Shimizu, will begin streaming soon!
Bladedance of Elementalers is set to broadcast every Monday starting on July 14, at 9:30 am Pacific Time for its premium members, with free members able to watch one week later. More information can be found on www.crunchyroll.com/bladedance.
In a world where spirits exist, pure hearted maidens are able to form a binding contract with them, becoming elementalers. Though it was thought to be impossible for a man to become an elementaler, somehow Kazahaya Kamito was able to form a contract with a spirit. Being the only male elementaler, he was called to Areishia Spirit Academy, an elite elementaler educational institution where noble families send their daughters to train. He has come to the find more information about his past contract spirit but is told by the academy director that he can only find out if he participates in the elementaler tournament, Bladedance!
Based on the light novel by Yu Shimizu, the anime will be produced by Media Factory, which also produced works such as No Game, No Life and Soul Eater. Bladedance of Elementalers reunites Makoto Furukawa and Ibuki Kido from the anime Golden Time as the voices of Kazehaya Kamito and Claire Rouge.
Bladedance of Elementalers will be available to Crunchyroll's audience in the following territories: USA, Canada, Australia, New Zealand, South Africa, Turkey, Latin America, Europe (except Albania, Belarus, Bosnia and Herzegovina, Vatican City, Moldova, Macedonia, Monaco, Montenegro, San Marino, Russia, San Marino, Serbia, Ukraine), the Middle East, and North Africa.
---------
Patrick Macias is editor in chief of Crunchyroll News. He is also the editor of Otaku USA magazine. Check out his rather amazing Tumblr at japanesefashioninferno.tumblr.com.