Starts TODAY at 10:30am Pacific Time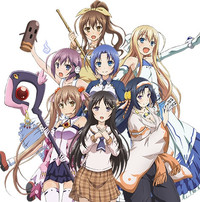 New anime announcements are par for the course today at Crunchyroll as INVADERS of the ROKUJYOMA!? begins to stream today.
INVADERS of the ROKUJYOMA!? is set to broadcast every Friday starting on July 11th, at 10:30am Pacific Time for its premium members, with free members able to watch one week later. More information can be found on www.crunchyroll.com/rokujyoma.
"I won't relinquish this rokujyouma (rent: 5000 yen a month) even for a beautiful girl!" Satomi Koutarou, a self-supporting high school student, begins a new life alone in a one-room rokujyouma at a bargain of 5000 yen a month. However, his room, "Corona Complex Room 106," was under target! Cute invaders begin to appear before Koutarou the moment he moves into "Corona Complex Room 106," all vying to capture the room to fulfill their aspirations. Emotions crash and spark an epic battle between Koutarou and the girls in this tiny rokuyouma!
Yuichi Nakamura (Gray Fullbuster from Fairytail) will be playing Kotaro Satomi. His out-of-this-world roommates will be Aoi Yuki (Madoka from Puella Magi Madoka Magica) as Korama, Aya Suzaki (Mako from Kill La Kill) as Shizuka,
INVADERS of the ROKUJYOMA!? will be available to Crunchyroll's audience in the following territories: USA, Canada, UK, Ireland, Australia, New Zealand, South Africa, Netherlands, Scandinavia, Latin America, Turkey, Europe excluding German speaking countries and cities, North Africa, and the Middle East.
---------
Patrick Macias is editor in chief of Crunchyroll News. He is also the editor of Otaku USA magazine. Check out his rather amazing Tumblr at japanesefashioninferno.tumblr.com.