The units has released 15 singles and 4 full albums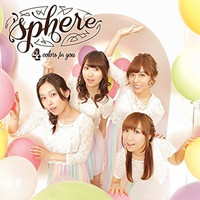 Bandai Namco's anime music company Lantis yesterday announced that popular four-member voice actress unit sphere's debut 5th anniversary best album is scheduled to be released next year. A vote to select their best songs for the as yet titled album will begin at their concert venues from July 19, then also on the special site four days later. In order to vote for your favorite sphere songs, you need a voting ticket with a serial code. There are three ways to get the ticket:
1. Purchasing their latest/4th album "4 colors for you" (voting right for 5 songs)
2. Joining their on-going tour "LAWSON presents ~Sphere's eternal live tour 2014~" (for 5 songs)
3. Purchasing their goods at the concert venues (3,000 yen for 1 song)
sphere was formed in 2009 by Haruka Tomatsu, Minako Kotobuki, Ayahi Takagaki, and Aki Toyosaki.
So far the unit has released 15 singles and 4 full albums, and has been known as one of the most successful
voice actress units. Their 2014 tour started at Saitama-city Bunka Center yesterday on July 13, then they
will perform in 10 cities across Japan till November.
4th album "4 colors for you" regular edition jacket ©2014 Sphere
Source: Lantis