9th single "Natsu no Hi to Kimi no Koe" hits stores August 6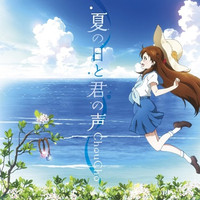 Lantis has posted a short version promotional video for "Natsu no Hi to Kimi no Koe" (Summer Days and Your Voices), Choucho's 9th single on its official YouTube channel. The song is now featured as the OP theme for the on-going TV anime Glasslip. She made her major debut from Lantis with 1st single "Kawaru Mirai" (Heaven's Memo Pad OP) in July 2011 and is best known for her top-selling song "starlog" (7th single/Fate/kaleid liner Prisma Illya OP). Her 9th single which also contains the image song for the anime, "Lucent Eyes," will be released in Japan on August 6.
P.A.WORKS' original TV anime Glasslip is now available to Crunchyroll audience in the United States, Canada, Australia, New Zealand, South Africa, Turkey, Latin America, Europe (except Albania, Belarus, Bosnia and Herzegovina, Vatican City, Moldova, Macedonia, Monaco, Montenegro, San Marino, Russia, San Marino, Serbia, Ukraine), the Middle East, and North Africa.
"Natsu no Hi to Kimi no Koe" short PV
CD single jacket
Choucho artist photo © I WILL Inc.
2nd anime PV
The ED song "Toumei na Sekai" by nano.RIPE